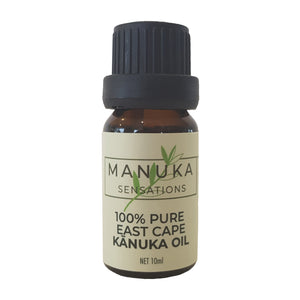 Sweet and soothing. Reminiscent of happy memories

Kānuka essential oil is made by distilling leaves and twigs from the kānuka tree (kunzea ericoides). Each leaf contains a range of potent healing oils, which are stored in the oil sacs on the underside of the leaves. One of the main compounds found in kānuka oil is alpha-pinene, which is known to be highly antimicrobial, great for improving airflow to the lungs, and aiding memory.

Kānuka oil is a lighter oil than mānuka oil, which the skin tends to absorb more rapidly. Kānuka oil has a sweet, herbaceous and earthy scent.
Ways to use k
ā

nuka oil:

As an essential oil, kānuka is versatile and can be used for many different purposes. Here are our favourites:
Add a few drops to your washing powder or liquid for a hygienic clean and refreshing fragrance.
Place a couple of drops in your hands, cup them together and inhale to help with relaxation, getting ready for sleep and opening blocked airways.
Add a few drops to your favourite carrier oil (such as sweet almond or coconut oil) for an effective insect repellent.
Dilute with a carrier oil and apply to fungal infections to help reduce the effects.
Dilute with a non-comedogenic carrier oil and apply to acne for help with clearing breakouts.
Apply to dandruff (diluted) to help remedy the situation.
Add a few drops to your aromatherapy diffuser for a soothing and grounding fragrance.
Key points:
Crafted in New Zealand from a renewable resource.
Each bottle contains 10ml of 100% pure East Cape kānuka oil.
Not tested on animals.
Health properties: antifungal, anti-inflammatory, antimicrobial, antibiotic, antiseptic, antiviral, aids memory, bronchodilator, insecticidal, muscle relaxant and a pain reliever.
Description: Extracted from the leaves of the kānuka tree by steam distillation. Prized for its versatile healing ability, kānuka has been used by Māori for many centuries for a wide range of purposes. A broad spectrum anti-inflammatory, antimicrobial, antiviral, antiseptic and a natural insecticide.
Directions: Apply sparingly to the affected areas as required. Can be diluted with vegetable oil.
Ingredients: 100% pure East Cape kānuka oil (kunzea ericoides).
Caution: external use only, do not swallow, avoid contact with eyes and ears, keep out of reach of pets and children. If you suspect an allergic reaction, discontinue use.
More information:
Shipping policy: Free delivery anywhere in New Zealand on orders over $50. $5 nationwide shipping for orders under $50. Flat-rate delivery available to most parts of the world. 
Returns policy: If you are not fully satisfied with your purchase, simply send it back within 30 days and we'll refund the full cost of the item.