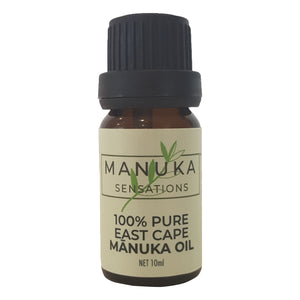 The mother of all native essential oils, East Cape mānuka oil has astonishing abilities when it comes to healing, rejuvenating and remedying infections. 
Mānuka essential oil is made by distilling leaves and twigs from the mānuka tree (leptospermum scoparium). Each leaf contains a range of powerful healing oils, which are stored in the oil sacs on the underside of the leaves.
East Cape mānuka oil contains particularly high levels of triketones - a group of naturally occurring compounds that have extraordinary healing abilities. Triketones have been proven to be effective in controlling MRSA, Herpes (HSV1 and HSV2), and are 20-30 times more effective at destroying gram-positive bacteria than Australian Tea Tree Oil.
Note: this is a pure essential oil. Whilst it is commonly applied directly to the skin, it is best to dilute with a suitable carrier oil (such as sweet almond oil or olive oil), or add into other products such as soap, shampoo, washing liquid/powder, skincare ointments and bathing products. This allows you to get the most out of your pure mānuka oil whilst still enjoying all the benefits.
We also make a 25% East Cape Mānuka Oil Blend.
Ways to use 100% Pure East Cape Mānuka Oil:
Here are some of our favourite ways to use mānuka essential oil around the home:
Add a few drops of pure East Cape mānuka oil to your favourite shampoo or conditioner to help with dandruff.
Apply (diluted with a carrier oil) to cuts, scratches and grazes to prevent infection and speed up the healing process.
Apply (diluted with a carrier oil) to fungal infections such as coldsores and athlete's foot to kill the nasties and help it heal faster.
Add a few drops of pure East Cape mānuka oil to your favourite skincare treatment to help with acne and blemishes.
If you suffer from body odour, try adding a few drops to your soap or body wash to help kill the stink-causing bacteria.
Add a few drops of pure East Cape m

ānuka oil to your washing liquid or powder to kill bacteria and leave your clothes smelling fresh. This is especially useful for sweaty clothes that stink!

To help with chafing and rashes, dilute 5-10 drops of pure East Cape mānuka oil in 10ml of a non-comedogenic carrier oil and massage into the irritated skin.
Use it as an insect repellent - simply dilute 5-10 drops in 10ml of your favourite carrier oil and apply to your areas of exposed skin that insects are most likely to bite.
If you do get bitten, try using East Cape m

ānuka oil to soothe the irritation - it's also an antihisthamine!
For more ideas on how to use mānuka oil, check out this article and this resource.
Key Points:
Crafted in New Zealand from a renewable resource.
Each bottle contains 10ml of 100% pure East Cape mānuka oil.
Not tested on animals.
Health properties: Analgesic, anthelmintic, antibacterial, anti-dandruff, antihisthamine, anti-inflammatory, antifungal, antiseptic, cicatrisant, cytophylactic, deoderant, expectorant, herbicidal, immune stimulant, insecticidal, relaxant, spasmolytic and vulnerary.
Description: Extracted from the leaves of the mānuka tree by steam distillation. Prized for its versatile healing ability, mānuka has been used by Māori for many centuries for a wide range of purposes. East Cape mānuka oil contains high levels of triketones, which have powerful antibacterial properties.
Directions: Apply sparingly to the affected areas as required. Can be diluted with vegetable oil.
Ingredients: 100% pure East Cape mānuka oil (leptospermum scoparium).
Caution: External use only, do not swallow, avoid contact with eyes and ears, keep out of reach of pets and children. If you suspect an allergic reaction, discontinue use.
More Information:
Shipping policy: Free delivery anywhere in New Zealand on orders over $50. $5 nationwide shipping for orders under $50. Flat-rate delivery available to most parts of the world.
Returns policy: If you are not fully satisfied with your purchase, simply send it back within 30 days and we'll refund the full cost of the item.